RUBY MACANDREW | Stuff Sport January 22 2018
Van Wijk, who currently swims for the Dannevirke Amateur Swimming Club, began swimming competitively at age seven in her hometown of Masterton where she quickly became interested in swimming as a career. "It's a sport she can do without getting hurt and it just so happens she's very, very good at it," van Wijk's coach, Lin Tozer says.
In addition to setting records, van Wijk also placed third in the 50m backstroke event, up against swimmers who had no disabilities. "I go into it [each event] wanting to go hard out, get a personal best and absolutely try for a medal."
The three-day Wellington meet has been a busy one for van Wijk, who competes in seven backstroke and freestyle events. "I'm stronger in backstroke and I like the shorter distances," she says. "The funny thing is that she is very good at the longer ones because she's fit as an ox," Tozer says.
During a Sunday evening event, van Wijk swam the 400m freestyle event in a time of 6:35:62, a huge feat for the young swimmer." Not only was it the first time it had been swum, Hannah also claimed the record," Tozer says.
"This is not a para meet, so for her to be setting records and winning medals in the 18 and over age group is just fantastic." ​Swimmers with an intellectual disability swim under an S14 classification, a function-based rating designed to allow for fair competition in disability swimming. Fellow para swimmers Sophie Pascoe and Tupou Neiufi are van Wijk's favourite swimmers. Each year, during Auckland swim meets, she gets to swim alongside them as part of a para team. "It's a real highlight," she says.
Van Wijk came into the competition aiming to qualify for the national competition in July but her dream is to ultimately be selected for the next Paralympics Games, to be held in Tokyo in 2020.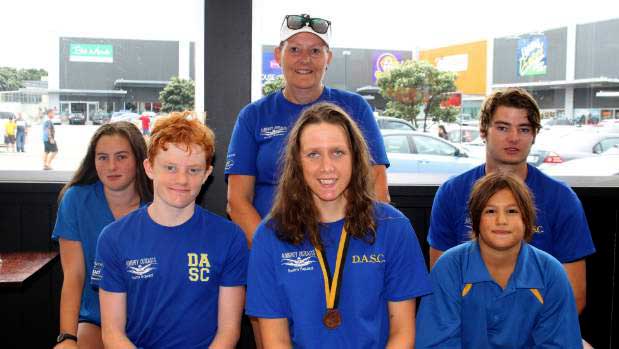 Van Wijk, centre, with her fellow Dannevirke Amateur Swimming Club teammates, Left-Right, Hannah Winter, 16, Marcus Blok, 13, head coach Lin Tozer, Cameron Gillespie, 18 and Charis Gilbert, 11.